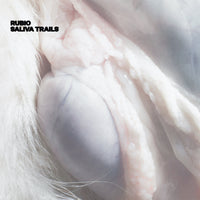 Rubio - Saliva Trails
On The Ropes
Regular price €16
Tax included.
Shipping
calculated at checkout.
Saliva Trails by Rubio is the opening release from On The Ropes - a hot off the press record label serving voltage-driven archipelagic magic from a former military base located on the coastline of Helsinki. The EP consists of four cuts aimed straight at the dance floor and beyond. The opening track 'Circles' is a guitar driven haze revolving around a thumping backbone of vultural screeches. An unchained melody of the new millenium. Tension keeps on building with the stubborn, postbalearic cruiser 'Sheraton'. Muffled kicks, succulent bass and electrocuted percussion set the scene for a psychoerotic glide through the iciest veils of final menthol. On the flip side 'Maverick' soars in like a sonic avalanche. Wild drumming and spine-tingling sound design season the plate with the gentlest helltouch. Moving on to 'FSH', a primal mover rolling free in the spirit of musical hypnosis. A thunderous rhythm peppered with subtle hats provides a fertile soil for the unapologetic sinewy lead to oscillate like a humming reptile rounding off the EP in great style.
And then I found you
primal and pure.
Like liquid, dancing in figure eights
as the room pulsates.
It was like seeing the sun at night.
And I want to take you to twilight
with me, to our next life...
How cathartic, to be
reborn as horses.